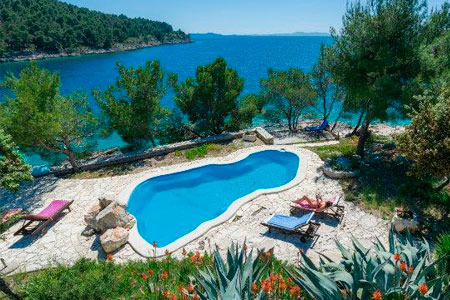 A Croatian Villa holiday offer visitors exceptional accommodation, much of which is located right on the beach at reasonable prices compared to similar beachfront villas in other countries. It is not uncommon to find beachfront villas without pools. The Adriatic Sea offers relatively non-tidal, astonishingly clear water as a result of there being very few sandy beaches so it is like having your own large pool at the end of the garden. Where villas have pools, they tend to be around 8m x 4m in size, and 1.2-1.5m deep across the whole pool. Larger pools are usually found in the luxury villas. Gated pools are rare as are heated pools, the latter found mostly at the luxury end of the market. Villas in Croatia tend to be larger, around 4-5 bedrooms – 2 bedroom villas with pools are always in high demand, so be sure to book early!
The beautiful Croatian coastline and stunning countryside, particularly in the Istria region, have magnificent unspoilt scenic views thanks to the country remaining relatively free of mass development such as apartment or villa-with-pool complexes. With so few villas and apartments available in comparison to other destinations, demand for villas is high and early booking is strongly recommended.
---
Popular Locations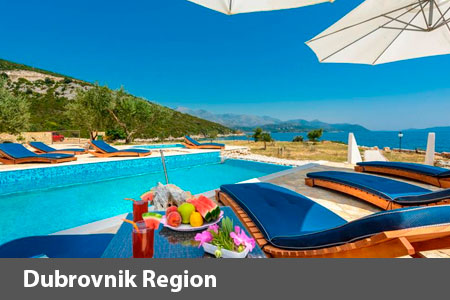 From Ston in the north to the Croatia/Montenegro border in the south, this narrow coastal strip features the 2 large towns of
Dubrovnik
and Cavtat and a few smaller coastal towns of Molunat, Mlini, Zaton and Orasac. As well as the coast, this region features an exceptionally beautiful countryside area known as the
Konavle Valley
. Demand for villas with pools exceeds available villas in this region and the closer the villa to the sea, the more sought after it is. Villas in Konavle Valley tend to be great value and more abundant than coastal properties.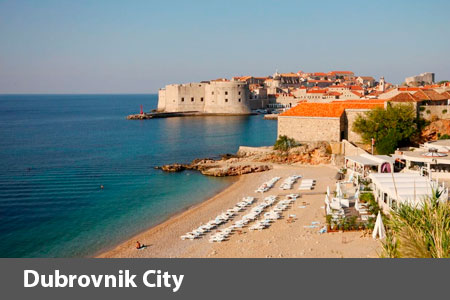 This renowned
Dubrovnik city
is made up the famous walled city at its' heart and a number of other areas which form part of the city and which are popular with tourists such as Lapad Bay, Babin Kuk, Gruz-Lapad, Ploce-Sveti Jakob. Accommodation within the walled city consists mostly of studios and small apartments where sea views, balconies/terraces are a rarity. In the other areas it is a little easier to find apartments with a sea view/outside area. Expect to pay considerably above average prices for a villa with a pool in the city – only a handful exist, and most fall within the luxurious end of the market.
---
Contact Us