7 Bedroom Villa with Pool and Panoramic Tuscan Countryside Views near Sarteano, Sleeps 14
Arezzo & Cortona - Tuscany
Code: TU092
7 Bedroom Villa with Pool and Panoramic Tuscan Countryside Views near Sarteano, Sleeps 14

A beautiful countryside villa located within an 800 hectares estate, offering panoramic views of the Val d'Orcia hills. It would suit groups of friends and families looking for that relaxing villa holiday.

The villa consists of 2 floors, a separate annex and a pool/garden area. On the ground floor guests can find a separate lounge/dining area and a separate kitchen. Also, there are 2 twin bedrooms on this floor; one of which is made up of 2 queen size beds with direct access to the garden area. From the lounge area there is a spiral staircase that leads up to the first floor, where guests can find a further 5 bedrooms; 1 double and 4 twins; 2 of the twins are made up of 2 queen beds. All bedrooms have en-suite shower rooms. From the lounge area there are doors that open up to a covered external walkway, that leads to an annex building, where there is a further lounge area and large arched window offering spectacular views of the Tusan countryside. To the side of the main building is the pool area.

For large families or groups looking to holiday together this villa can be booked with the following 8 villas located on the same estate:

TU035, TU089, TU090, TU091, TU093, TU094, TU095, TU096

These villas will accommodate a further 106-111 people in total, subject to availability. All villas have a private pool.

Car hire is recommended when staying in the Tuscan countryside. Both the hilltop town of Cortona and Lake Trasimen are under an hours' drive away and make for great days out. Sarteano is under a 10-minute drive and offers shops and restaurants and is steeped in history.

*Christmas Special* - a price per person of £135 and a minimum of 6 persons is required. Please select at time of booking.

Christmas Welcome 4 course dinner (for arrival day, please enquire for menu) – for 24th, 25th and 31st December an additional charge may apply – please enquire at time of booking.
Christmas Welcome Gift (including typical and local Tuscan Christmas treats and a bottle of wine for that "Brindisi di Natale")
Christmas Tree - 80cm
Christmas Centre Piece
Christmas Garland

£1,533.00

19 September 2020 - 26 September 2020

7 nights

Location

Distance to beach

127 km

Nearest airport

Perugia Airport; alternative airports are Pisa and Florence

Distance to airport

105km/1.25 hour drive

Nearest town

Sarteano

Distance to town

10-minute drive

-

-

Details on nearest shops

Local shop

Distance to nearest shops

6.5 km

Distance to nearest restaurant

12-minute drive

Facilities:

General

Sleeps in bedrooms: 14
Sleeps total (includes sleeping capacity on sofa/extra beds): 14
Minimum stay: 2019: 3 nights stay for all dates; 2020: 7 nights stay for end of May to end of June and end of July to end of September and end of December to beginning of January 2021; 3 nights stay for all other 2020 dates
Arrival days: 2019: Any day arrival for all dates; 2020: Saturday arrival for end of May to end of June and end of July to end of September and end of December to beginning of January 2021; any day arrival for all other 2020 dates
Check-in: 16:00 - 19:00
Check-out: 08:00 - 10:00

Amenities

Area: Villa: 500m2
Baby cot at an extra charge - on request
Pool is open: beginning of May to end of September
Garden
Heating
Parking
Children
Cot/crib (available on request)
Pool size: 12 x 6m
Fire place
Wifi

Appliances

Stove
Dishwasher
TV
Oven
Refrigerator
Freezer
Toaster
Washing machine
BBQ
Satellite TV
Telephone
Internet access

Rooms

Furniture in terrace/balcony/garden: Sun loungers and table and chairs
Kitchen
Terrace
Lounge/living room

Bedroom details

Information on bedrooms: 6 twin bedrooms; 3 with 2x single beds and 3 with 2x queen size beds
Number of double bedrooms: 1
Total number of bedrooms: 7
Number of twin bedrooms: 6

Bathroom details

Number of bathrooms with shower: 7
Total number of bathrooms: 7
Additional information on bathrooms: All bedrooms are en-suite

Information on Location

Lake Trasimeno is a 40-minute drive away/32.3km
Distance to beach: 127 km
Driving time to nearest beach: 2-hour drive
Nearest airport: Perugia Airport; alternative airports are Pisa and Florence
Distance to airport: 105km/1.25 hour drive
Nearest town: Sarteano
Distance to town: 10-minute drive
Details on nearest shops: Local shop
Distance to nearest shops: 6.5 km
Distance to nearest restaurant: 12-minute drive
Distance from the sea: 127 km
Distance from the center: 6.1 km
Car recommended
In countryside

Charges

Price includes

Electricity
Water
Provision of linen/towels
Heating
Internet
Tourist tax: €1 per person per day (payable locally - mandatory)

Separate charges

Final Cleaning (Mandatory): €200 (payable locally)
Heating and telephone: according to consumption (payable locally)
Cot charge: €50 per child per stay (payable locally)
Late arrival: €50 (payable locally)

Security deposit

The following must be produced on arrival: €750 (payable locally by cash or credit card)

Price bands

Property per night

01 Jan.

-

11 Jan.

11 Jan.

-

11 Apr.

11 Apr.

-

18 Apr.

18 Apr.

-

23 May

23 May

-

27 June

27 June

-

11 July

11 July

-

25 July

25 July

-

22 Aug.

22 Aug.

-

29 Aug.

29 Aug.

-

26 Sept.

26 Sept.

-

31 Oct.

31 Oct.

-

19 Dec.

19 Dec.

-

26 Dec.

26 Dec.

-

01 Jan.

Prices are in UK Pounds (£)
*Rental prices do not include Residence Tax: £ 0.92 (per person per night)

Pricing and booking information

Pricing Information

Pricing is calculated per property per night in GBP Sterling. Many destinations also require tourist tax to be paid. Tourist tax starts from approximately £1 per adult per night, and £0.50 per night per child aged 12-17 at time of travel. If tourist tax is applicable to the destination you are travelling to, this will be shown in the booking process. For tourist tax payable at time of booking, the cost will be added to your subtotal. For tourist tax payable locally, the cost will be shown at time of booking and on documentation.

All bookings subject to booking fee.

Booking Information

A 30% deposit is required at time of booking. Full balance is due 10 weeks prior to arrival.

If booking within 10 weeks of arrival, the full cost of the villa must be paid at the time of booking.

Certain properties require varying payments for bookings. If payments required vary from those above, these conditions will be displayed below or advised at time of booking.

Holding an Option on a villa

Please Contact Us should you wish to place an option on a property for 24 hours whilst you book your flights and/or make other arrangements.

Payment Information

For online bookings, payment can be made by credit or debit card. Corporate credit card payments may incur a surcharge at time of booking. There is no surcharge for personal credit or debit card payments. All major currencies are accepted when paying online by credit card.

Payment by bank transfer (In sterling or Euros), UK online banking or cheque in Euros or sterling can be accepted. Please Contact Us if you wish to make a payment in this way.

Our full terms and conditions can be read

here

:

Select your travel dates

Free

Occupied

Your selection
Guest services
The following additional services can be arranged at the villa.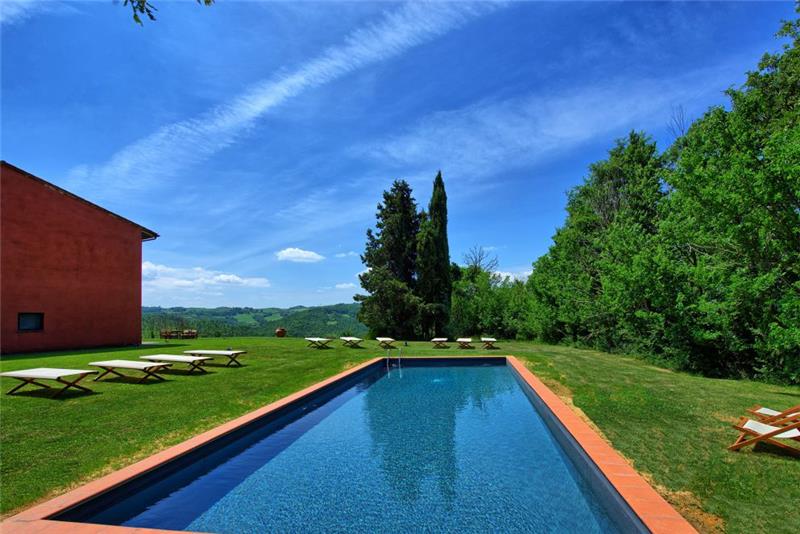 Yoga

Yoga is available at the villa and 14 yoga mats can be provided at an extra cost.

Weddings

Wedding parties and special occasions can be arranged for small groups at the villa at an additional cost. For bigger groups, weddings can be arranged at a local Abbey with a capacity of 150-200 people.

Golf

Nearby Golf courses:

Val Di Chiana Golf Club (25km - 30km): https://www.golfclubvaldichiana.it/

Golf Club Lamborgini (25km - 30km): https://golf.tenutalamborghini.it/

Tennis

Nearby tennis courts include:

Chiusi (10km): https://www.circootennischiusi.it/

Cooking Classes

The villas concierge can arrange cooking classes either at the villa or close by upon request.

Biking & Hiking

Cycling & Hiking routes can be provided upon request.