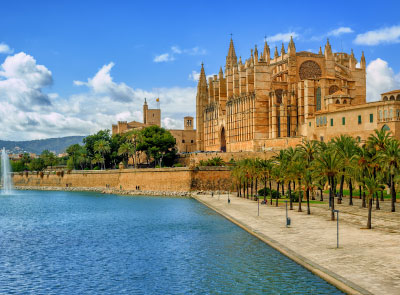 Mallorca is the largest of Spain's Balearic Islands and is known for its crystal-clear waters, white sandy beaches, trekking in the Serra de Tramuntana mountains and its many seaside and hill towns. Its vibrant capital city of Palma offers a wide range of bars, restaurants and the impressive Santa Maria Cathedral. Why not try some wine tasting or the island's famous suckling pig? This island offers something for everyone.


---
Popular Locations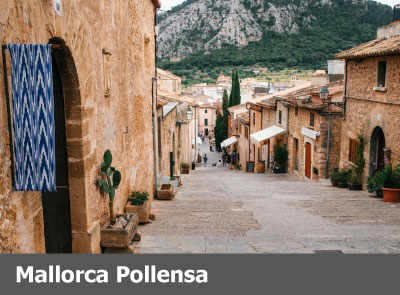 Pollensa is a small historical town that is a popular spot for tourists to visit. Offering picturesque narrow streets and a main square lined with cafes and restaurants and a weekly Sunday market. Port de Pollensa is a mere 6km away and is the perfect option for a family retreat, with its endless stretches of sandy beaches and its café and restaurant culture. The medieval town of Alcudia offers the best of both worlds; its Roman ruins, cobbled streets and café lifestyle are just a few-minutes' drive from one of Mallorca's longest beaches and buzzing family resorts – Port d'Alcudia.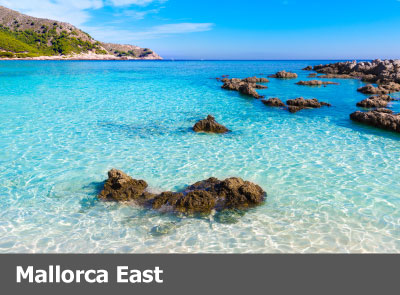 East Mallorca offers some of the prettiest coastal spots to be found on an island, from Cala d'Or's secluded alcove beaches to the sweeping white sandy shores of Playa de S'Amarador. Why not take a mystical boat ride through the stalactite mazes and turquoise waters of Drach caves? A little further north is the medieval hill town of Artà, where bustling cafes, restaurants and quaint shops can be found along enchanting cobble streets, surrounded by blossoming poppy fields. The east of the island is dotted with remote national parks, where beaches with crystal clear water and unspoilt countryside offer moments of splendour and stillness for all.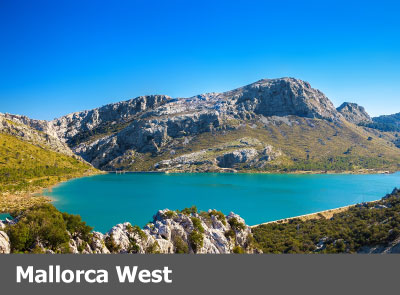 The west of the island houses the stunning capital of the Balearic Islands, Palma. Gothic 13th century architecture and baroque churches add charm and chill to this eccentric historic city. The heart of the city offers various galleries, craft studios, shops and cafes. Go wine tasting in one of Mallorca's lovely bars and enjoy the local cuisine in one of many vibrant restaurants. Striking the perfect balance for a city and coastal stay; white sandy beaches lined with palm trees offer a place for relaxation only a short distance from the bustling streets. Outside of the city and along the west coastline are numerous wonderful waterparks, perfect for family holidays. Mallorca is also known as a paradise amongst walkers, with plenty of mountain peaks and national parks in the west of the island offering wonderful trekking trails with breathtaking views.
---
Contact Us