Sardinia – Holiday Villas
---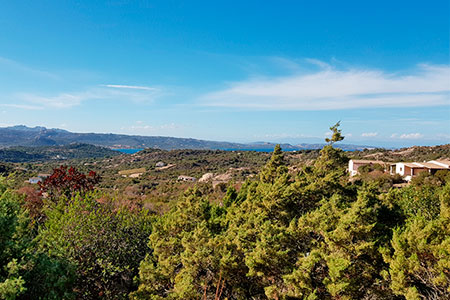 The beautiful island of Sardinia, situated off Italy's western coast, is well known for offering glitz and glamour along the stunning Costa Smeralda, yet this world famous destination occupies just a tiny area on the island. Ranking as the 6th largest European island – it takes 4 hours to drive north to south, 2 ½ hours to drive east to west – there is so much more to discover from fabulous beaches, enchanting towns, inland discoveries, national parks, sports and recreation and of course Italian food and wine to die for. A villa holiday in Sardinia offers a perfect way to discover this fabulous island.
---
---
Popular Locations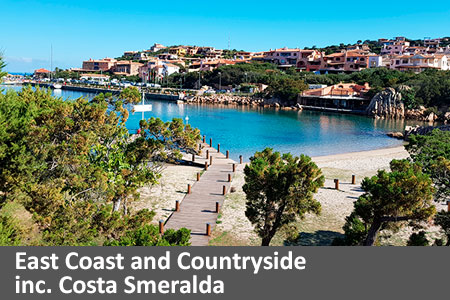 The well-known Costa Smeralda stretches along part of Sardinia's North-Eastern coast and features stunning turquoise waters, white sandy beaches and striking bays such as those at
Piccolo and Grande Pevero bays
. The popular towns of Porto Cervo, with its' designer shops and nightclubs, and the delightful Porto Rotondo are well worth a visit. Further inland, the artist's enclave town of San Pantaleo is a wonderful discovery, with its pretty shops and Thursday market selling handmade crafts and homegrown foodstuffs. Other recommended visits are La Maddelena island archipelago, the medieval village of Arbatax which also serves as an ideal base to explore the spectacular beaches surrounded by red rocks, and the beautiful town of Posada nestled in foothills beside a white stretch of sand and turquoise sea.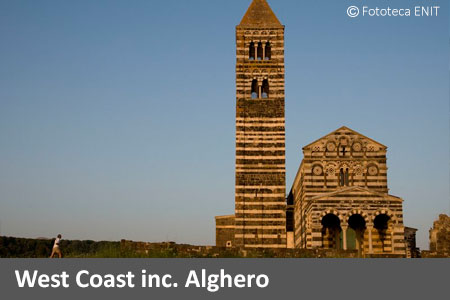 Less visited but no less appealing, Sardinia's west coast is a little more wild and rugged and offers the perfect location for those looking for a romantic island holiday. A highlight of the area includes visiting the pretty sea side town of Alghero with its' delightful shops and marina and a chance to walk the city walls. The surrounding areas offer a good selection of beaches whilst further afield visitors and holidaymakers can take the ferry and explore the Asinara National Park with its' beautiful coastline, roaming donkeys, goats and mouflon and fascinating history.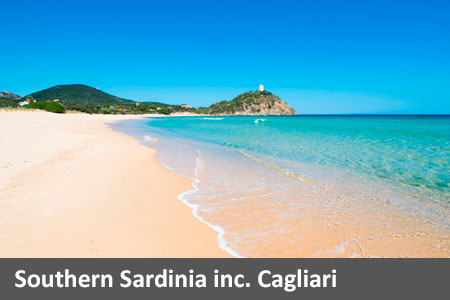 The southern part of the island has an authentic Italian feel to it and is home to the island's capital, Cagliari, a city displaying a mix of Italian and North African architectural styles along with shopping and dining opportunities. Visitors to southern Sardinia can enjoy incredibly long idyllic beaches, such those found at Chia, as well as historic towns to visit. The city of Pula with its' attractive squares and abundant nightlife and entertainment is among the best towns to explore in the south. Compared to its' northern neighbours, the southern part of the island offers guests value for money as a holiday destination with plenty to do and see.
---
Contact Us