Magnificent 8 Bedroom Burgundy Chateau with Bassin Pool, Sleeps 14-18
Magnificent 8 Bedroom Burgundy Chateau with Bassin Pool, Sleeps 14-18

Holiday Highlights ~ Complimentary Tea or Kir Ducal (Cremant+Cassis) and nibbles on arrival ~ Wide choice of catering options ~ Spectacular setting-close to many areas of outstanding beauty.

Situated deep in the heart of Burgundy region located 40 miles west of Dijon and offering an easy route from Calais, Paris or other parts of Continental Europe is this beautiful 8-bedroom, 18th century Louis XV Chateau with 14th century Medieval towers complete with its own moat/lake, extensive gardens, parkland with woods and bathing pool. Guests of the villa will enjoy a unique stay in an exquisitely presented chateau set in glorious French countryside. The chateau is best suited to groups of 14 although can sleep 18 persons on request and is ideal for family holidays, large family and friends get-togethers and special celebrations. It's certainly worth bringing something smart to wear for the evening.

The villa is approached from a country road through the gates of the estate down an avenue of lime trees where guests cross the moat onto a circular carriage drive. Steps lead to the main entrance door which opens into a spacious light filled entrance hall which features a grand piano and a sweeping stone staircase to the first floor. Other rooms on this level include a stunning panelled salon/lounge with French windows opening onto the rear terrace offering valley views, ideal for a summer lunch, evening drinks or a catered dinner whilst watching the sunset, a dining room with seating for up to 16 persons, a breakfast room/smaller dining room and a fully equipped. kitchen. Other features include a chapel and a ping-pong table, in the 2 Towers opposite the chateau.

Other rooms located on the ground floor are designated private and are used by house staff/live-in housekeeper.

FIRST FLOOR

The first floor features 8 bedrooms and their associated bathrooms as follows:

Large double bedroom (1.9m x 1.8m) with en-suite bathroom and en suite boudoir bedroom suitable for a baby or small child.
Large double bedroom (1.9m x 1.8m) with en-suite shower room.
Antique Four Poster double bedroom (1.75m x 1.4m) with en-suite bathroom.
2 x Double bedrooms (1.8m x 1.5m) which have shared access to a bathroom.
The following bedrooms all share the use of a family bathroom:
Twin bedroom (1.9m x 1m) featuring boat beds more suited to children.
5 Single boat beds 2 x (2m x 1m), 1 x (1.9m x 1m), 2 x (1.85m x 0.9m) laid out with 3 beds alongside one wall and 2 beds alongside another. This is more of a childrens' bedroom.
Single bedroom (1.8m x 1m)

All but one of the bedrooms have high ceilings, and all offer stunning views over the estate.

Additionally, on this floor, there is a library with sofa, armchairs and a TV.

OUTSIDE

Within the extensive landscaped grounds there is a variety of areas of interest to explore including an orchard, a walled kitchen garden from where the gardener can provide guests with seasonal fruit, vegetables and herbs depending on availability and with an 18th century Bassin (a circular pond 11m in diameter) ideal for swimming in. A boat is available for guests to row around the moat in whilst if you prefer land based activities there are several scenic country walking trails to explore.

Catering and Cookery Classes

A wide choice of catering options are available for guests of the villa, please click on the additional services tab for information. Burgundian cookery classes including market visits and key cooking skills teaching can be arranged for all ages and cooking levels. Details available on request.

Nearby

For general area exploration, car hire is recommended. There are many places of interest to discover including the region's capital, Dijon, home of the famous mustard and Kir. A visit to the nearby town of Saulieu with its lively Saturday market is recommended. Want to see more chateaux where you can view beautiful interiors, art collections and gardens? there are plenty of others to visit in the region such as the beautiful Chateau de Sully; this and many other chateaux are open to the public. Cultural aficionados will enjoy the variety of galleries and museums on offer including the Musee Zervos featuring works of art from Picasso, Miro and Giacometti. For entertainment; music, festivals, fetes and flea markets or 'brocantes' run throughout the season. For the energetic, there is an array of activities on offer including Golf, Horse riding, Hot Air Ballooning, all forms of cycling including guided boutique cycling tours and even tree climbing parks where you can book yourself onto a tree climbing course.

Unwind and enjoy fabulous scenery at the nearby Morvan National Park consisting of 30,000 hectares of protected countryside. Visitors can walk, cycle, fish or swim in the lakes and reservoirs, or white water raft and canoe along the rivers.

The little ones will adore a visit to the Mini Zoo and Aquatic Centre, the Prehistoric Animal Park and the Zoo and Waterslide Park.

After all this activity why not treat yourself to a spot of pampering at the Saulieu Spa.

Last but not least is the region's food and wine offer. The Chateau is situated within 3 distinct wine regions, Chablis, Loire and Cote d'Or and guests will enjoy a variety of top quality wines as well as a selection of fabulous restaurants including Michelin starred establishments, all within easy access of the chateau.

Location

Distance to beach

42 km

Nearest airport

Dijon-Bourgogne Airport

Distance to airport

Djon (1 hour by car), Lyon (2 hours by car), Paris Orly (2 hours by car), Semur-en-Auxois for private jets (25 mins by car)

Nearest town

Saulieu

Distance to town

16 km

-

-

Details on nearest shops

Supermarket

Distance to nearest shops

16 km

Distance to nearest restaurant

16 km

Facilities:

General

Sleeps in bedrooms: 14
Sleeps total (includes sleeping capacity on sofa/extra beds): 18
Minimum stay: 7 nights all year, shorter stays of 4-6 nights outside June – August on request.
Arrival days: Saturdays all year. Non-Saturday arrivals on request.
Check-in: 16:00
Check-out: 11:00
Built: 1756

Amenities

Area: 750m2 (approx)
Photography – The Chateau hosts request photos of the Chateau interior are for personal use only and not for social media publication.
Parking spaces for 10 cars
Small pets preferred
Pool is an 18th century stone bassin/bathing pool
Frequency of linen/towel change: Once a week
Car park: Guests can unload luggage next to the chateau and then park cars on the other side of the moat.
House pets allowed (on request)
Garden
Sun deck
Parking
Children
Air-conditioning (some of the rooms): The Chateau retains a natural coolness due to thick walls.
Cot/crib (available on request)
Pool size: 11m diameter
Pool private to the property
Fire place
Alarm
Wifi

Appliances

Food processor and spiraliser available
As the chateau is located in the countryside, internet connection can drop. Usually OK for e-mails and general computer activities, streaming is limited to 1 or 2 devices. Fibre Optic broadband scheduled for 2022
TV channels are via the internet.
Free calls to European and US landlines and US mobiles.
Stove
Dishwasher
TV
Oven
Refrigerator
Microwave
Stereo
Freezer
Toaster
DVD player
Telephone
Kettle
Iron
Ironing board

Rooms

Library (part of TV room)
Furniture in terrace/balcony/garden: Chairs, stone benches, deckchairs are available in the Chateau grounds
Kitchen
Dining room
Kitchen table
Terrace
Lounge/living room
TV room

Bedroom details

Information on bedrooms: 1 x Quintuple bedroom. Please see detailed bedroom breakdown in description above. Some bedrooms are more suited to children although adults can be accepted in those bedrooms.
Number of double bedrooms: 5
Total number of bedrooms: 8
Number of twin bedrooms: 1
Number of single bedrooms: 1

Bathroom details

Number of bathrooms with shower: 1
Number of bathrooms with bathtub: 4
Total number of bathrooms: 5

Staff on site /available

Maid
Caretaker
Cook
Gardener
Cook on request

Information on Location

Distance to beach: 42 km
Driving time to nearest beach: 50 minutes to Lac des Settons
Nearest airport: Dijon-Bourgogne Airport
Distance to airport: Djon (1 hour by car), Lyon (2 hours by car), Paris Orly (2 hours by car), Semur-en-Auxois for private jets (25 mins by car)
Nearest town: Saulieu
Distance to town: 16 km
Details on nearest shops: Supermarket
Distance to nearest shops: 16 km
Distance to nearest restaurant: 16 km
Car recommended
In countryside

Charges

Price includes

Electricity
Water
Provision of linen/towels
Internet

Separate charges

Price includes made up beds and a light tidy up of bedrooms and bathrooms
Pet fee: On request
It is recommended to bring your own cot linen
Free calls to European and US landlines and US mobiles.

Security deposit

The following must be produced on arrival: £2000 to be paid 8 weeks prior to arrival to owner's bank account. Returned within 2 weeks of departure subject to no damage/breakage/missing items.

Price bands

Property per night

15 May

-

29 May

29 May

-

26 June

26 June

-

28 Aug.

28 Aug.

-

26 Sept.

26 Sept.

-

01 Nov.

Prices are in UK Pounds (£)
*Rental prices do not include Residence Tax: £ 0.92 (per person per night)

Pricing and booking information

Pricing Information

Pricing is calculated per property per night in GBP Sterling. Many destinations also require tourist tax to be paid. Tourist tax starts from approximately £1 per adult per night, and £0.50 per night per child aged 12-17 at time of travel. If tourist tax is applicable to the destination you are travelling to, this will be shown in the booking process. For tourist tax payable at time of booking, the cost will be added to your subtotal. For tourist tax payable locally, the cost will be shown at time of booking and on documentation.

All bookings subject to booking fee.

Booking Information

A 30% deposit is required at time of booking. Full balance is due 10 weeks prior to arrival.

If booking within 10 weeks of arrival, the full cost of the villa must be paid at the time of booking.

Certain properties require varying payments for bookings. If payments required vary from those above, these conditions will be displayed below or advised at time of booking.

Holding an Option on a villa

Please Contact Us should you wish to place an option on a property for 24 hours whilst you book your flights and/or make other arrangements.

Payment Information

For online bookings, payment can be made by credit or debit card. Corporate credit card payments may incur a surcharge at time of booking. There is no surcharge for personal credit or debit card payments. All major currencies are accepted when paying online by credit card.

Payment by bank transfer (In sterling or Euros), UK online banking or cheque in Euros or sterling can be accepted. Please Contact Us if you wish to make a payment in this way.

Our full terms and conditions can be read

here

:

Select your travel dates

Free

Occupied

Your selection
Guest services
The following additional services can be arranged at the villa.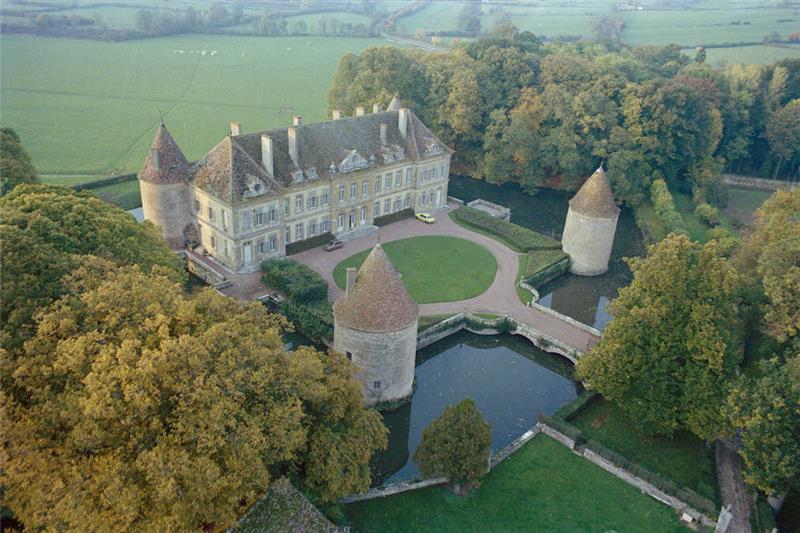 Chateau Dining and Catering overview

The large formal dining room on the ground floor can seat up to 16 persons whilst the breakfast room is set for a rotation of guests. Tables can also be set on the rear terrace for dining if requested. The following catering options are included at the Chateau

Breakfast (Included)

A Continental breakfast is included when staying at the chateau and is served between 9am – 11am. Breakfast consists of a selection of hams, cheeses, boiled eggs, fruit, cereal, yoghurt, fresh croissants & breads and a choice of jam, honey and other spreads, accompanied by tea, coffee and orange juice. The table is laid and cleared by the two Château Hosts.

If a booked chef option is selected, a bespoke breakfast can be provided by the chef on request.

Self-Catering

Guests have use of the Chateau kitchen and the estate gardener can arrange for the delivery of available fresh fruit and vegetables from the organic kitchen garden every day or every other day. An overview of available foods at the time of your stay can be given for the enthusiastic cooks in the group. Recommended places to shop for specialist ingredients such as cheese, duck, honey, flour from within a 20km radius are available from the chateau who can also shop for these ingredients ahead of guest arrival. Payment to be made to the Chateau directly for such purchases. The above services are included as part of the Chateau's concierge service.

Semi-Catered Service

The Chateau hosts can prepare either a lunch or dinner at an approximate cost of Euros 25-35 per person payable locally in advance. This price excludes soft drinks and wines. This option is usually booked by guests who would like one non-breakfast meal prepared for 3 or 4 days during a week-long stay. Click here for further details.

Chef for your stay

The Chateau can recommend a chef for your entire stay or for ad hoc meals during your stay. The chefs, some of which are Michelin restaurant trained, have often worked internationally, usually bi-lingual and can prepare full French or other cuisines and can cater to specific dietary requirements.

IMPORTANT: In view of the rising demand for cooks/chefs, we strongly recommend EARLY BOOKING for the Semi-catered and Chef for your stay options to secure your catered preference and avoid disappointment.

Restaurant Reservations/Other dining concierge service

Restaurant reservations can also be made for guests as part of the Chateau's concierge service. Local restaurants run from hose serving traditional rustic fare to Fine French cuisine and everything in between. For an authentic experience, why not prepare a picnic to enjoy in the hills, by a historic building, or at one of the many local lakes, canals or vineyards.